Flood Havoc in Orissa: Appeal for support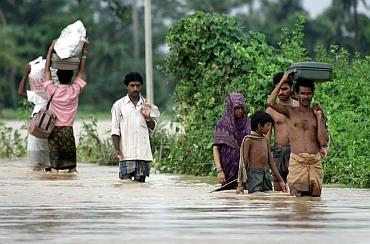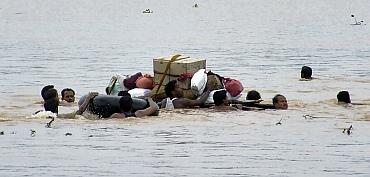 Odisha or Orissa, lying in the eastern part of India has always been susceptible to natural calamities like flood, drought, cyclone. Just as the state was recovering from the great floods of 2008, it has again been hit by floods which has caused even more destruction this time around. More than half the state has been affected by floods. Over 2 million people have been affected. Official death toll as of today stands at 19. Many people have drowned and many have been swept away. Those who are alive have lost everything and have taken shelter on places like national highway. According to official reports 3,505 villages in 19 of the 30 districts have been affected and at least 21,816 houses have been damaged. But the worse is yet to come as the fear of epidemic breaking out looms large. If you just search for 'Orissa floods 2011' on Google you'll be able to understand the amount of destruction that has taken place. At least 24,429 houses have been damaged.
The water level in other major rivers like Subarnarekha, Budhabalang, Baitarani, Brahmani, Bansadhara and Rushikulya was falling. However, the Subarnarekha was still flowing above danger level.
However, people taking shelter under makeshift structures on highways were affected as rains and thundershowers lashed several areas of Cuttack, Jagatsinghpur, Kendrapara, Puri and Khurda districts since early hours, official sources said. Around 1.57 lakh people had been evacuated from low-lying areas and shifted to 275 relief camps.
Support the Odisha Flood Victims
"Utkal Bipanna Sahayata Samiti"
PLOT NO.- 41,SECTOR - 'A', ZONE-D,
MANCHESWAR INDUSTRIAL ESTATE
BHUBANESWAR - 751010,ORISSA
PH - 0674 - 2585708, FAX-0674 – 2586509
Website: www.ubssseva.org
E-MAIL -seva_ubss@yahoo.co.in,

ubss.seva@gmail.com
"People can directly send to UBSS online by NEFT". People who do not have Axis Bank a/c can also transfer online (using NEFT facilities).
Account Details of UBSS:
Name of the Bank: Axis Bank Limited
Savings Bank Account No. : 0240101000043982
Branch : Satya Nagar, Bhubaneswar
IFS Code: UTIB0000024

For any concerns/issues feel free to call:

UBSS contact person:
Saroj Kar: 09437042342
Jyoti Ranjan Nayak: 9986661283
Saroj Sahoo: 9986669129
Siba Ram Baral: 9845760848
Debeesantosh: 9980579579
Sitansu: 9036004177
Santanu Pradhan: 903600412