Sewa Bharti to open computer centre in Dehradun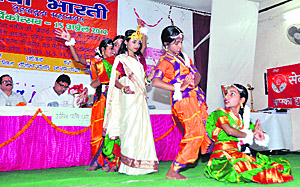 Girls perform at the annual function of Sewa Bharti in Dehradun on Sunday.
Dehradun, April 15
The Sewa Bharti today organised its annual function at MKP (PG) College, Dehradun. Chief Guest Dr Devendra Bhasin, Principal DAV (PG) College, Dehradun, said the welfare activities being undertaken by the Sewa Bharti in Dehradun were unparalleled. He said the Sewa Bharti's vocational training courses were popular among poor sections of the society.
Rajkumar Tayal, Dehradun Mahanagar secretary of the Sewa Bharti, disclosed that the Sewa Bharti, that started its activities in Dehradun in 1989, had come a long way in the works of charity. He said it had been actively working in 51 slum dwellings of Dehadun. Its volunteers worked with unprivileged sections of society. He said scholarships were also provided by them to the bright students.
Referring to the future plans, Tayal said the Sewa Bharti now planned to open computer centre in Dehradun. He said the organisation also planned to work among destitute children.
Earlier, children from the Sant Ravidas Bal Sanskar Kendra, Jatav Basti, presented a cultural programme which included Garhwali, Kumaoni and other dances. The Durga Bal Sanskar Kendra, Patelnagar, sang a patriotic song. Children from Guru Arjun Dev Bal Sanskar Kendra recited number of poems.