#Sewabharati Appeal for support to #Assam #FloodVictims
Let us support the Northeast India in its time of crisis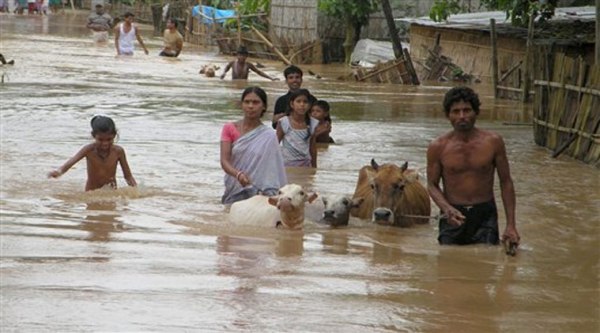 More than 10 lakh people affected in 300 villages of Meghalaya and Asom, with heavy loss of property the NorthEastern India is reeling under the flood fury.
At least 96 people have been killed and thousands displaced in floods and landslides triggered by heavy rain in several districts of Assam and Meghalaya.
Over 93,000 hectares of crop area are still under water across the state. In Goalpara, over 37,000 hectares of area have been affected, hitting nearly 83,000 farm families
Some of the low-lying areas in Meghalaya such as Rajabala, Selsella, Charbatapara and Pushkurnipra are reportedly inundated. The flood situation in the West Garo Hills is also grim though water levels have receded in the worst-affected areas such as Chibinang and Tikrikilla.
As far as road traffic is concerned, National Highway 51 was still blocked and multiple landslides have led to a large number of vehicles being stranded.
Support the flood victims of Assam
Seva bharathi, Lakhimpur,
Vast tracts of land have been inundated in Chaygaon, Nagarberra, Goroimari and Boko as water of rivers Kulsi, Jaljanli, Singra, Kolohi and Brahmaputra gushed in following heavy rains in neighbouring Meghalaya
Seva Bharati , Purbanchal ,
No. 9 , South Bye Lane No.1 ,
Lachit Nagar , Guwahati-781007 , Assam.