Swami Vivekananda Medical Mission in Wayanad, Kerala: Video Story
Swami Vivekananda Medical Mission in Wayanad, Kerala -
A unique effort by Sevabharathi and Akhil Bharatheeya Vanvasi Kalyan Asram. Refer Refer
http://svmm.org/appeal.html
for more details
DENTAL CLINIC
The daily Dental Clinic functioning in the hospital since June 1997 is found very helpful to the poor and needy tribal patients who are not able to reach the Dentists in the towns.
OPHTHALMOLOGY CLINIC
A monthly Ophthalmology Clinic is functioning in the Mission Hospital since March 1999. This is run by Comtrust Eye Care Hospital, Calicut.
PEDIATRICS:
A child specialist examines the children, who require special treatment
every Sunday.
SKIN CLINIC
This clinic also gets the services of a specialist once a month.
DISTRICT YOGA WELLNESS CENTRE The Mission has been selected as Swami Vivekananda District Yoga Wellness Centre –Under Public Private Partnership (PPP)- by the MORARJI DESAI NATIIONAL INSTITUTE OF YOGA, 68, Ashoka Road, Near Gole Dak Khana, New Delhi-110001.This Institute (MDNIY) is an autonomous organization under the Department of AYUSH, Ministry of Health & Family Welfare, Govt. of India. A Yoga Vidyalayam has been started since April 2013 giving training and conducting certificate courses.
SICKLE CELL ANAEMIA DIAGNOSTIC AND COUNSELING CENTRE
The presence of Sickle Cell Anemia disease among the tribal people of Wayanad was found out by the Mission first and brought to the notice of the Government and the AIIMS, New Delhi by the Mission's chief medical officer Dr. D.D.Sagdeo. A survey was conducted at our behest with the help of AIMS New Delhi and it has been found that this disease is a genetic disorder and transmitted thorugh the genes of parents. Although tribes are mostly affected by it, Chetties of Wynad, who do not come in the list of Tribes, also are among the patients. Diagnosis, treatment and counseling are given for this. As a result the District has seen a tremendous change in awareness of the SCD. Awareness is the most crucial point for achieving effective control of these dreaded diseases through the first component for the control programme, i.e stopping the spread of the diseas. It becomes more important for the diseases like SCD as theere is no effective curative treatment available yet and hence the age old saying "Prevention is better than cure" stands true for this disease.
PAIN AND PALLIATIVE CARE CLINIC
A Pain And Palliative Care Clinic has been set up in the hospital with the help of the Pain and Palliative Care Centre of the Calicut Medical College to translate the available knowledge in the area of Palliative Care into practical methods of supporting patients with chronic pain on account of advanced cancer, Sickle Cell Anemia and other such conditions. This clinic is functioning on all Thursdays since May 1998 with an average number of 20 patients.
PREVENTION, CONTROL AND TREATMENT OF TUBERCULOSIS
RNTCP ( Revised National Tuberculosis Control Programme)
The Mission has been actively participating in this Governmental programme for eradication of Tuberculosis from our midst for the last 10 years as a Microscopy and Treatment Centre and has obtained Certificate of appreciation from the Government of Kerala.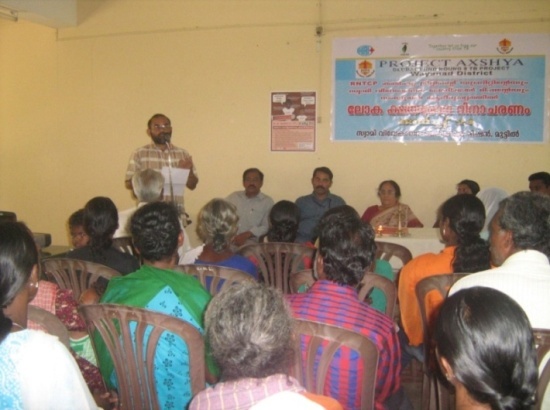 AXSHAYA: This is a project envisaged to determine the Tuberculosis patients in tribal colonies. In this, we are conducting field investigation and awareness campaigns, camps, slide shows etc. While India has already made great strides in providing access to basic "DOTS" (the globally recognized strategy for TB Control), this programme under the International Union Against Tuberculosis and Lung Diseases (The Union) and I Union South-East Asia Office, New Delhi and under direct control of CHAI, (Catholic Health Association of India, will provide better access to TB services, especially in geographically difficult areas, vulnerable communities and tribal populations. They feel that India still has one of the highest estimated incidents of Multi Drug Resistant-TB cases (MDR-TB) in the world.
ENT
doctor attends to patients with ear, nose, and throat problems every month
SPECIAL PROJECTS
Ministry of Tribal Affairs, Government of India is giving a grant for the Mobile Medical Unit and the Hospital Project
Scheduled Tribe Development Department, Government of Kerela is sponsoring the Bamboo Craft Unit, a project for the rehabilitation of Sickle Cell Anemia patients. They are trained to make handicrafts from Bamboo in three centres benefiting 180 tribals. The project envisages training for production and sales, so that the patients can become self-reliant.
DE-ADDICTION PROJECT The Project of De-addiction is sponsored by the benevolent Mr. Nandhakumar, owner of an I.T. Company called Suntech. The aim of the project is to prevent alcoholism and cure the alcoholics. As part of the program, colonies were visited and motivated the inhabitants to stop taking liquors. 15 addicts were given treatment. In our drive to save the young Adivasi children from the clutches of alcohol and other narcotic substances, we conducted awareness classes in Vidyaniketan Schools, Vidyakendras, Model Residential Schools and Pre-metric hostels.
Mochanam
A de-addiction project in collaboration with the ITDP Vythiri Taluk and Excise Department, "Mochanam", has been started from November this month and medical as well as awareness camps will be conducted in vulnerable colonies of Vythiri Taluk.
Ministry of Health and Family Welfare, Government of Indiahad selected the Mission as Mother NGO for the District of Wayanad for the implementation of Reproductive and Child Health Programme.
CAPART (Council for the Advancement of People's Action and Rural Technology) had selected the Mission for the formation of Self Help Groups for women from SC/ST communities.
TRIBAL INTEGRATED DEVELOPMENT AND EDUCATION TRUST, MUMBAI:
100 One Teacher Schools (OTS) are functioning for the benefit of students especially for dropouts in tribal areas.
5 Village libraries cum reading rooms are functioning in our sub-centres. Books are also circulated among the students of OTSs
PROJECTS FOR 'HEALTH FOR ALL'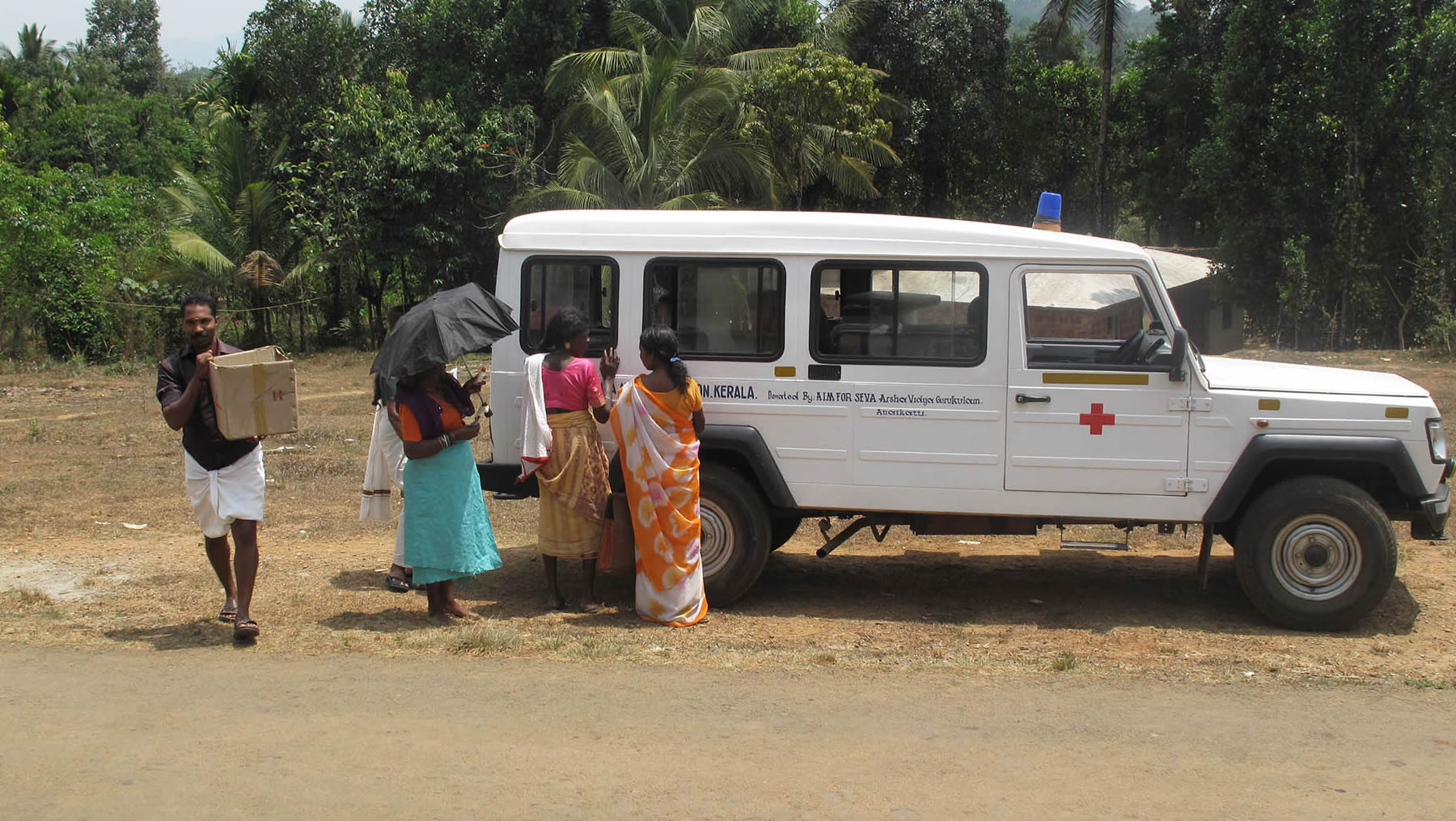 MOBILE MEDICAL UNIT A Mobile Medical Unit of the Mission leaves almost everyday to far and remote corners of Wayanad through terrains and kutcha roads to reach the vanavasi patients living in the periphery of the forest and quite often inside the forest. Dwellers of these hamlets will get the facilities of hospital at their doorstep. The Unit has all the necessary equipments and personnel to give treatment and essential medicines. Sometimes they will be referred to the base hospital for further treatment. Over the years, it has been found that this move of the Mission had brought in tremendous change on the health conditions and standard of living of the poor, illiterate and shy adivasis.
SIX SUB CENTRES (weekly centers) are functioning. They are at Kannankode and Muthanga of Noolpuzha Grama Panchayat, Chulliyode of Nenmeni Panchayat, Cherukara of Vellamunda Panchayat, Niravilpuzha of Tonarnadu Panchayat anad Irumanathur of Tavinchal Panchayat. In addition to medical treament at these camps, awareness campaigns for health and hygiene are also executed.
SWASTHYA MITRA SCHEME under which batches of tribal youths are given training in First Aid, Hygiene and Economic matters and each of the trained volunteers is given charge of specified area of work which they visit regularly to guide the people in molding their lives in a hygienic and healthy way.



SANJIVANI Health Awareness Campaign in tribal colonies with the aid of video films, charts and posters etc...

Be Healthy Wealthy and Wise

A comprehensive survey of the tribal population is also taken up to study the living conditions of the under-privileged brethren. It includes household survey about land holding, income, employment, water supply and health. On the basis of the findings a scheme will be formulated for the total development of the tribal people.

n.

PREVENTIVE CARE Distribution of prophylactic Vitamin A dose and immunization for children are arranged in the medical camps in the tribal colonies besides Health Care Check ups in nursery schools and hostels for tribal people.

THE DHANWANTHARI MANDIR at the Hospital Campus provides the patients and bystanders consolation and peace of mind






BAMBOO CRAFT PROJECT

A project for rehabilitation of sickle cell disease patients. They are taught to make handicrafts from bamboo in three centers benefiting 90 tribals. The project envisages training production and sales, so that they become self-reliant.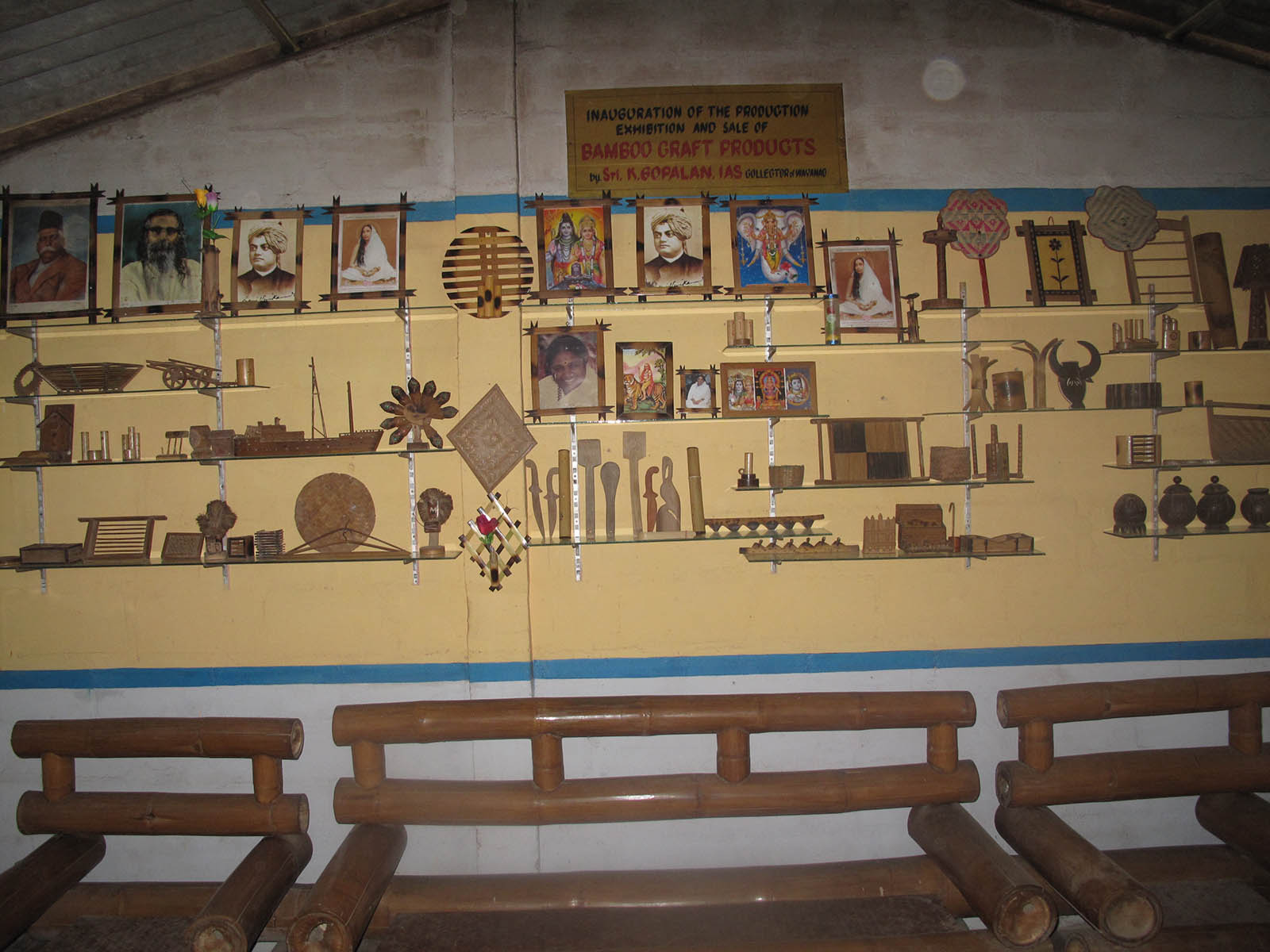 SERVICE ACTIVITIES
Besides its service activities in the health field the
Mission is attending to the educational, cultural and other social needs of the vanavasi brethren. It is running 6 Grameen Vidyalays, 15 Bala Samskara Kendras and eleven grama seva samithis. Drinking water Scheme was implemented in two colonies and sanitary conveniences provided in another two.
SELF HELP GROUPS Under the CAPART (Council for Advancement of People's Action and Rural Technology) Project in which the Mission is a participating member, Self Help Groups of Tribal Women have been formed in 15 colonies in 4 Grama Panchayats
EDUCATION
Gramin Vidya Kendras
In order to monitor the progress of education and culture of the tribal students, the Mission has organized 100 Vidya Kendras (Coaching Centers) in the Tribal colonies. The Swasthya Mithra volunteers, through these Kendras give tuition to school going children and drop-outs up to standard 7 in the evenings. A total of around 3000 children are attending them
Tribal Schools Our Cherukara sub-centre in Vellamunda Panchayat and Niravailpuzha sub-centre have regular functioning schools. In Cherukura, the school is the Sree Sankara Vidya Niketan Upper Primary School and in Niravilpuzha there is a Sisu Vadika (Nursery School) called Mahatma Vidya Mandiram.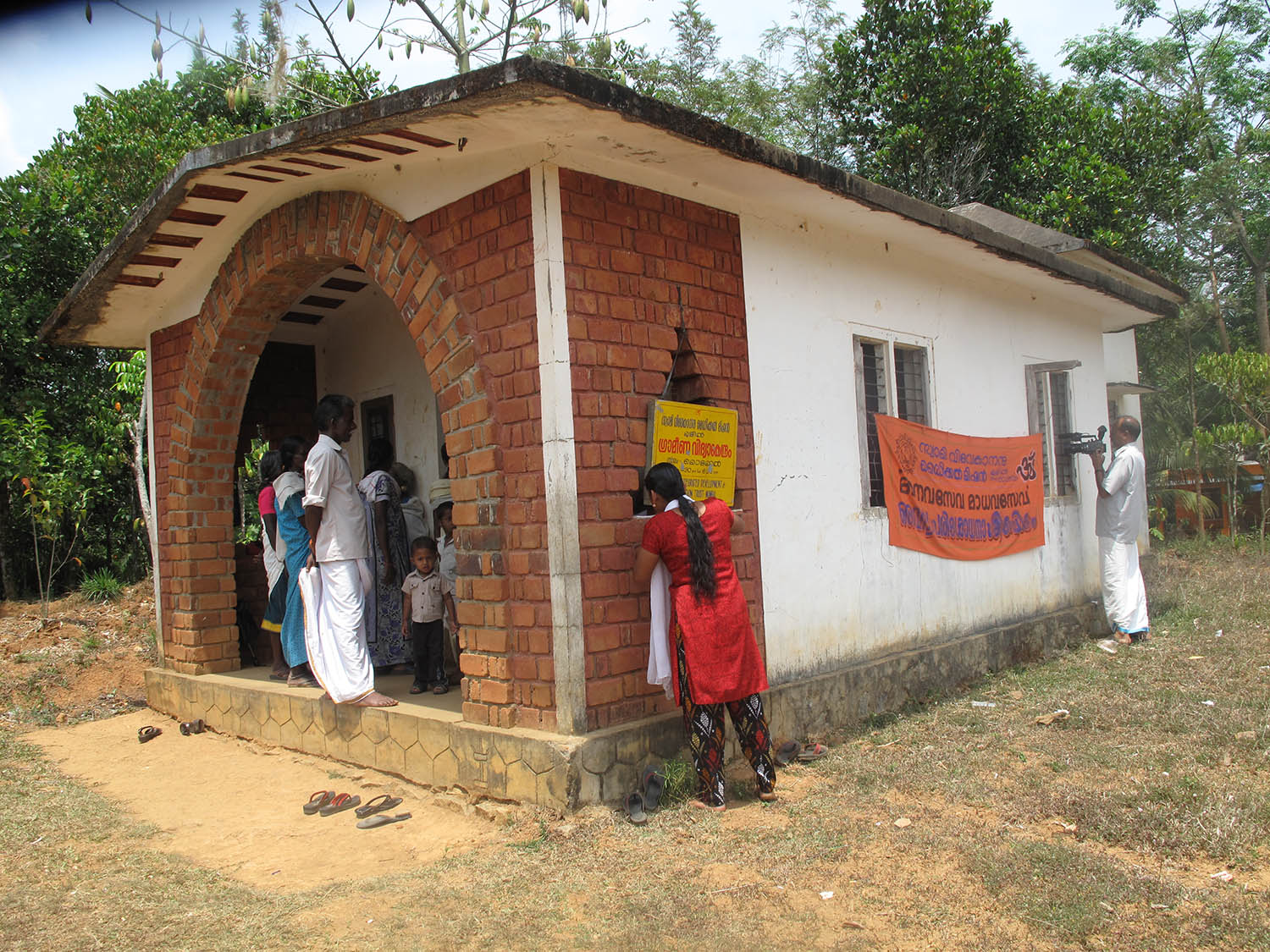 CONTACT DETAILS
Swami Vivekananda Medical Mission
Vivekananda Nagar
Muttil
PO-Kalpetta North
Dist.-WAYANAD,
KERALA- 673122.
Phone: 04936 202528, 204360
E-mail:
svmm_muttil@hotmail.com