16 Sewabharati volunteers toil to make the Annapurna Akshaypatra Yojana a success
Week on, food for poor in heavy demand
Community
---
Annapurna Akshaypatra Yojana
Supply increased to 1,000 meals per day; target 10,000; lunch likely next
Posted at: Jan 10, 2017, 2:07 AM
Last updated: Jan 10, 2017, 2:07 AM (IST)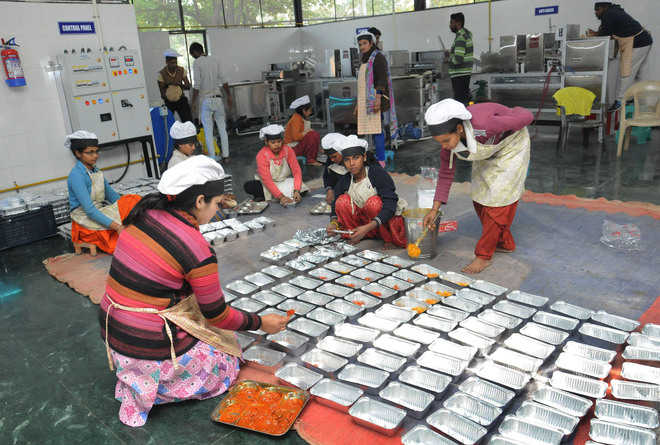 Workers pack food at the kitchen of Karuna Sadan in Sector 11, Chandigarh. Tribune Photo: Manoj Mahajan
Where you can buy food for Rs 10 from 6-9 pm
Sabji Mandi, Transport Area, Sector 26, Chandigarh

Labour Chowk, Mani Majra, Chandigarh

Labour Chowk, Near EWS Colony, Dhanas

Labour Chowk, Ram Darbar, Chandigarh

Labour Colony No. 4, Industrial Area, Phase I, Chandigarh
Just a week after the launch of the Annapurna Akshaypatra Yojana, a project initiated by the Indian Red Cross Society, UT Branch, Chandigarh, with an aim to satiate the hunger of economically weaker sections in the city, the number of meals being sold every day has reached up to 1,000. And as usual, the food is being sold out at all five designated sale points within minutes.
Giving information, Sushil Taank, training supervisor, Red Cross Society, said the number of meals being sent out was increased from 800 to 1,000 today. Notably, on January 2, the day the scheme was launched, 665 meals were sent out. The number was increased to 800 during the week, keeping in view the demand for the food.
He added that the menu comprised seasonal vegetables and six chapatis along with pickle. The food was neatly packed in containers every evening before being bundled off for the five designated points of sale.
Taank said at present, two roti-makers were being used to prepare chapatis and a third machine would soon be added, which would further enhance the production capacity of the kitchen.
Talking to Chandigarh Tribune, Naveen Sharma, Assistant Labour Commissioner, who is involved in the project, said keeping in view the heavy demand, the Administration might extend the scheme to provide lunch to the target buyers. "Right now, our aim is to take the number of meals up to 10,000," Sharma said, adding that the scheme had evoked tremendous response from all quarters.
He said the five food vans offered by local Member of Parliament Kirron Kher for the scheme would be put to service once the approval was received. Sixteen volunteers have been engaged by Sewa Bharti, an NGO, to prepare the food. These include students and homemakers, who have been trained by Sewa Bharti. There is plan to increase the number of volunteers to 20. According to sources, the volunteers will also be paid honorarium by Sewa Bharti, the amount of which is yet to be decided.